The final installation in the KAGE TRILOGY.
Kage and Jamie have finally come to terms with their feelings for each other, but there is still plenty of drama to work through. Friends and family don't want to let them be, and now that Kage has his UFC contract, his uncle is worried that the public will find out about his nephew's boyfriend. Will the drama be too much to handle? Will the stakes be to high?
Discover just how far Kage and Jamie will go for love.
Trey started laughing. "Jeez, Jamie. Make up your mind. Do you want all of the eggs, or none?"
I looked down and discovered that I'd scraped every bit of egg back into the serving bowl. "Oh, forget it." I slammed my empty plate down on the table and folded my arms across my chest. "Y'all just eat. I'm not hungry anymore."
"You don't need bacon anyway," Kage pointed out. "And definitely not those biscuits. You still need to watch what you eat, even when I can't be around to help."
"Yes, daddy," I said, bitterness making my voice tight. "Do you know how ridiculous you look trying to be all bossy while wearing my clothes that are too small for you? That shirt is practically a cutoff."
"Yeah?" Suddenly the edge was gone from his demeanor, and his tone was playful. "You don't think I look authoritative enough in your shirt? How about this?" He pulled it up over his head, balled it up, and threw it at me. I caught it without thinking, because all I was conscious of was his bare chest and abdomen, and the fact that we were standing in the kitchen with my friends looking on. I wanted to cover him with a dish towel or something.
He stalked toward me with a cocky swagger that had my knees melting, backing me into a corner formed by the edge of the refrigerator and the wall. "Can I be your daddy now?" he asked, resting his hand on the wall behind my head and leaning in.
I stared at him, swallowing around the dry piece of wood that was my tongue, feeling it catch in my throat. His dick was within inches of mine, and I could smell the soap on his skin and feel his breath against my cheek. I tried not to make eye contact with him, but I couldn't ignore the proximity of his body. He knew it, too; the lecherous grin on his face was proof of that. He was purposely goading me, and I wasn't sure what to do about it. My head was a swirl of confusion, and my cock was hard. I was within seconds of saying fuck it and wrapping my legs around his waist. I wanted to feel his steely length pressing against me through the fabric of those dangerously revealing sweat pants.
REVIEW


I was seriously dragging ass today and decided to start this book. I told myself I'd put it down at 8:00 and go to bed. It is now 11:48 and I've just finished. I couldn't. put. it. down!!!
(It's ok, I forgive you Maris)
This book picks up exactly where book 2 left off. Kage and Jamie in Jamie's room in his condo in GA. They've discovered they were being "kept apart" and Kage is doing everything in his power to change that.
Man is he a sexy beast when he's fighting for what he wants!!
After they've reconciled, they make a trip to Jamie's folks house, and that whole scene is just adorable. "Eddie Haskel on steroids" Hahaha
" "Have I mentioned how much I like you in blue?"
I just can't even with that part, it was so funny to me.
Another thing that I loved is that Dr. Tanner redeems herself. Michael needs more people in his corner, for him personally, not his career. The therapy that he so needed and everything that comes to light in this book are astounding. Peter Santori is the villain that you sooo love to hate. He deserves everything coming to him. There's also an unexpected hero in the story, well 2, sort of. But you'll get to that when you read it.
Not only does this book have story and all the loose ends seem to tie up nicely, and the guys grow into themselves as men, but its the steamiest of the series yet, in my humble opinion. The pages will melt your face off they're so hot!! The ending scene? OMG I think I melted into a puddle on the floor.
I thought this was seriously one of the most perfect endings to a perfect trilogy. Besides Peter, there's nothing I didn't like about this story
I give it 5 heart melting winks ;) ;) ;) ;) ;)
BUY THE BOOKS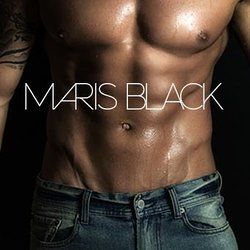 Click the Picture for Maris's Amazon Profile
Maris Black lives in the Southern United States. In college, she majored in English and discovered the joys of creative writing and literary interpretation. After honing her skills discovering hidden meanings authors probably never intended, she collected her English degree and got a job at a newspaper. But she soon figured out that small town reporting wasn't going to pay the bills, so she went to work in the medical field. Logical progression, right? But no matter what she did, the self-proclaimed compulsive plotter couldn't stop writing fiction.
"The M/M genre feels sort of like coming home," she says. "I can't quite explain it. I've always had openly gay and bisexual friends and relatives, the rights and acceptance of whom are very important to me, so it feels great to celebrate that. But there's also something so pure and honest about the love between two men that appeals to me and inspires me to write."
Like Me: facebook.com/marisblackbooks
GIVEAWAY